Updated Burrton Invitational Boys Tournament Bracket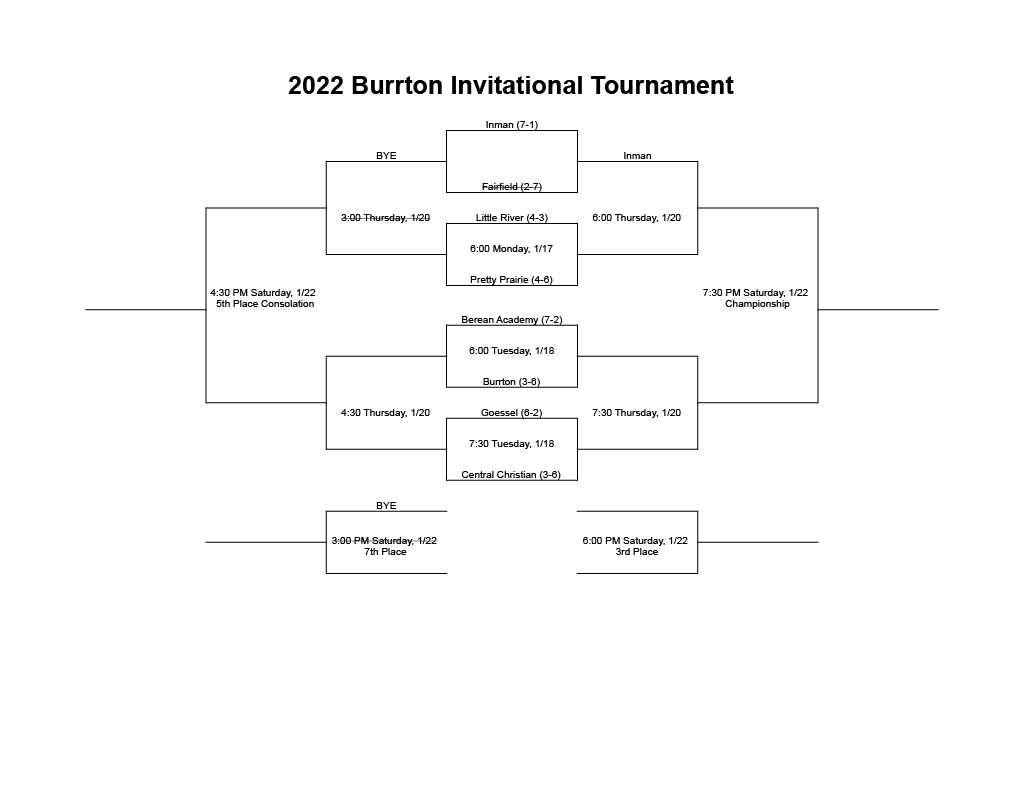 In an attempt to not be here as late on Thursday evening we are going to use the following schedule for the Middle School games: 3pm Girls C (HS Gym) 3pm Boys C (MS Gym) 4pm Girls B (HS Gym) 5:15pm Boys B (HS Gym) 6:30 Girls A (HS Gym) 7:45 Boys A (HS Gym)

MS Basketball @ HOME vs Norwich: Thursday, January 13th C Team Girls 3:00 C Team Boys 4:00 B Team Girls 5:00 B Team Boys 6:00 A-Team Girls 7:00 A-Team Boys 8:00

Girls JV will start at 4pm followed by half of a JV boys game.

Final score Caldwell boys over Pretty Prairie 60-51 at Caldwell.

Pretty Prairie girls over Caldwell 62-13 at Caldwell.

There will be NO High School JV games tomorrow at Caldwell. Varsity games will start at 6 p.m.

All after school activities are still on for today that include JV Scholars Bowl and Middle School Basketball at Pratt-Skyline.

Pretty Prairie Unified School District 311 will have a 2 hour late start tomorrow, Thursday, January 6. Temperatures will be very cold, so please take extra precautions to keep children warm on their way to school. There will be no school breakfast served in the morning.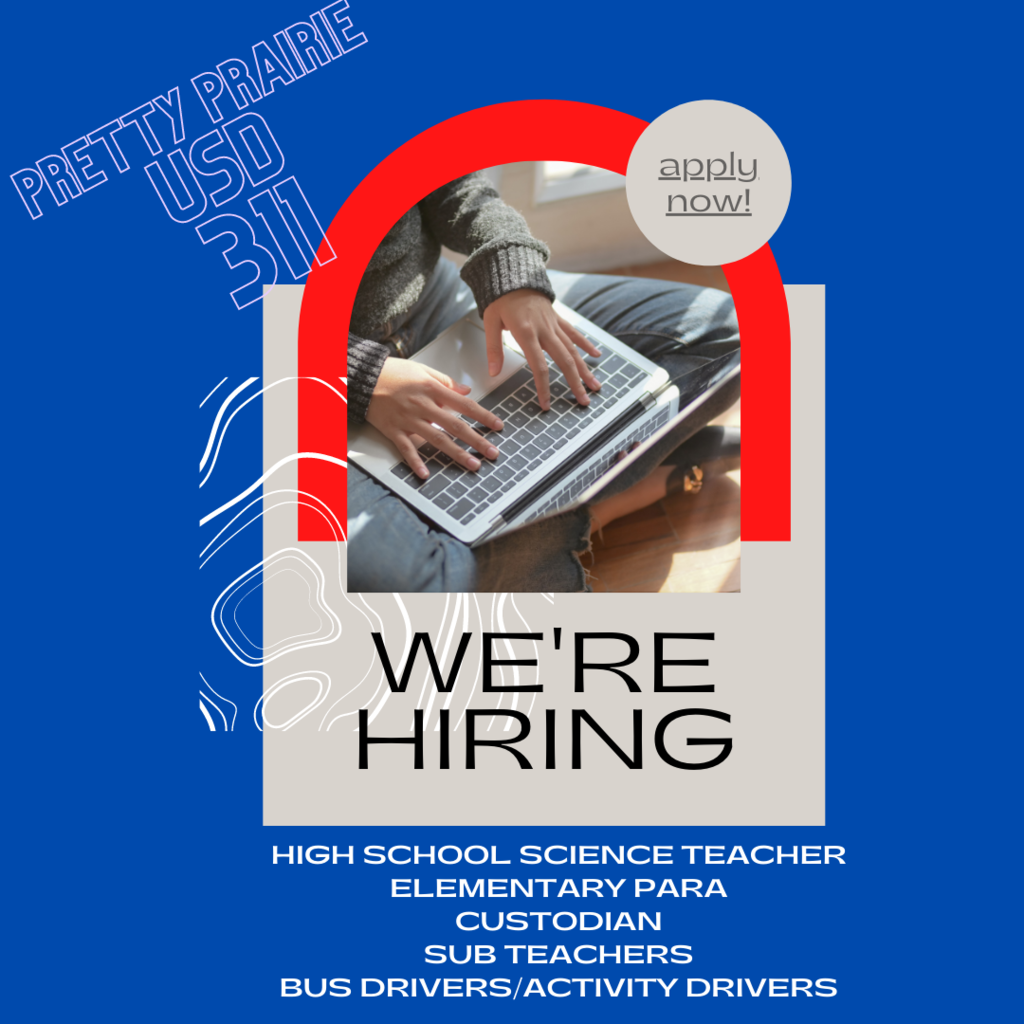 Pretty Prairie Varsity girls over Udall 90-12. Congratulations girls!!!

Tonight's game times at HOME vs. Udall: 3:45 pm-JV Girls 5:00-JV Boys 6:30-Varsity Girls 8:00-Varsity Boys



January Breakfast & Lunch Menus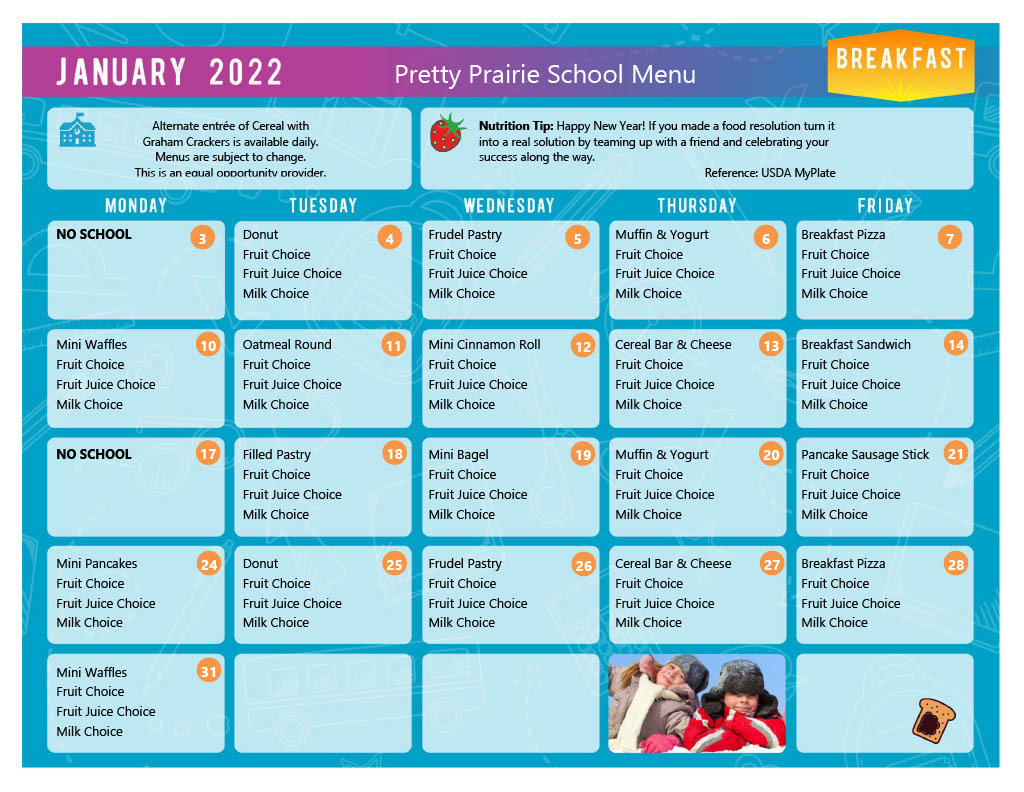 TUESDAY HS BB at HOME vs Udall THURSDAY HS JV Scholars Bowl at HOME MS BB @ Skyline FRIDAY HS BB @ Caldwell

Pretty Prairie girls win over Stafford 77-12.

High School STAFFORD games on 12/20/21: 3:00 pm 1/2 JV Girls 3:30 pm JV Boys 5:00 pm Varsity Girls 6:30 pm Varsity Boys