No Generation Gap Tournament at The Links on Saturday, September 25th. Shotgun start at 3 p.m.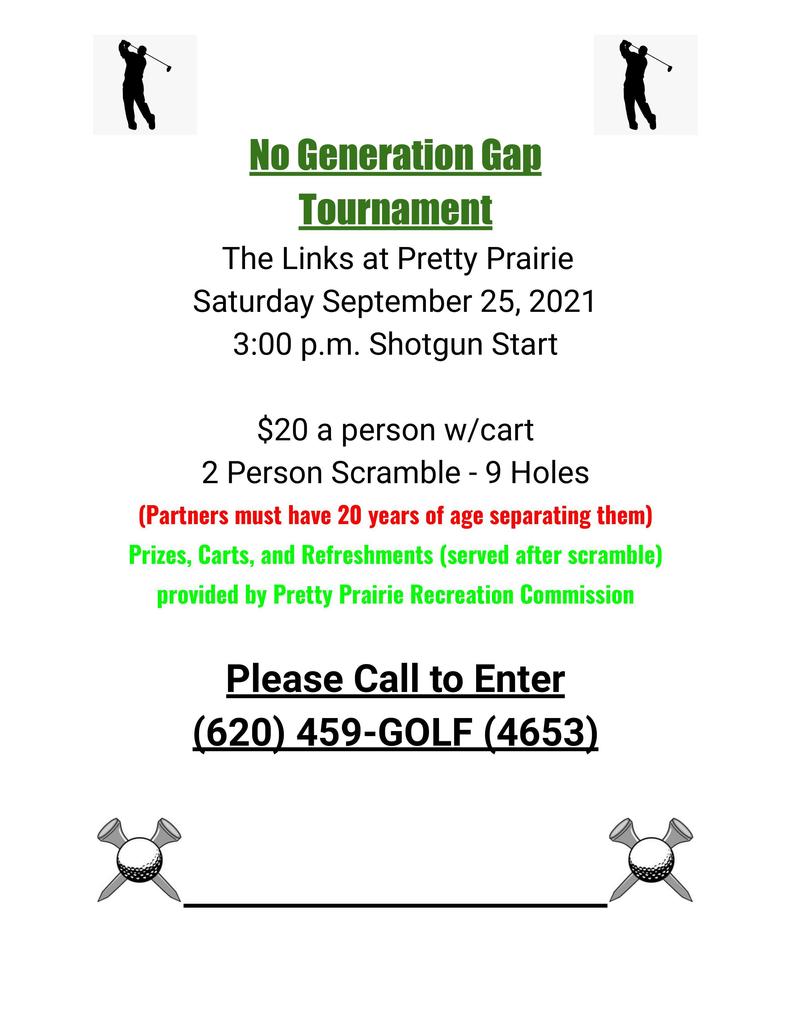 Congratulations to the Pretty Prairie Cross Country Team! Abby White placed 1st in the girls 4km, and James White, III place 1st in the boys 4km.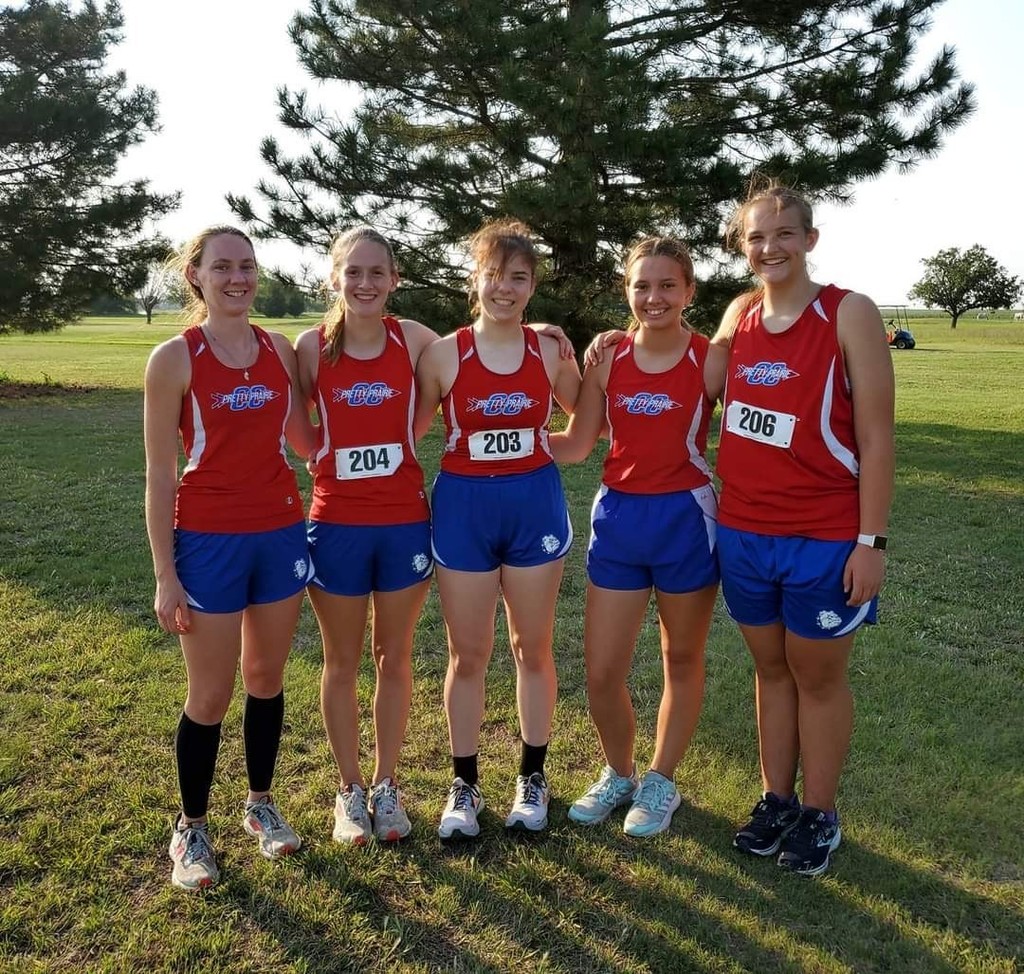 🏐🏐 Lady Bulldog Volleyball 🏐🏐 JV beat both Cunningham and Caldwell Varsity victorious over both Cunningham and Caldwell!!! 🏐🏐 Great day to be a Bulldog!!!🏐🏐

Congratulations to Raegan McLeland for medaling 5th place in a 4-way tie for 2nd place at Medicine Lodge Varsity golf tournament.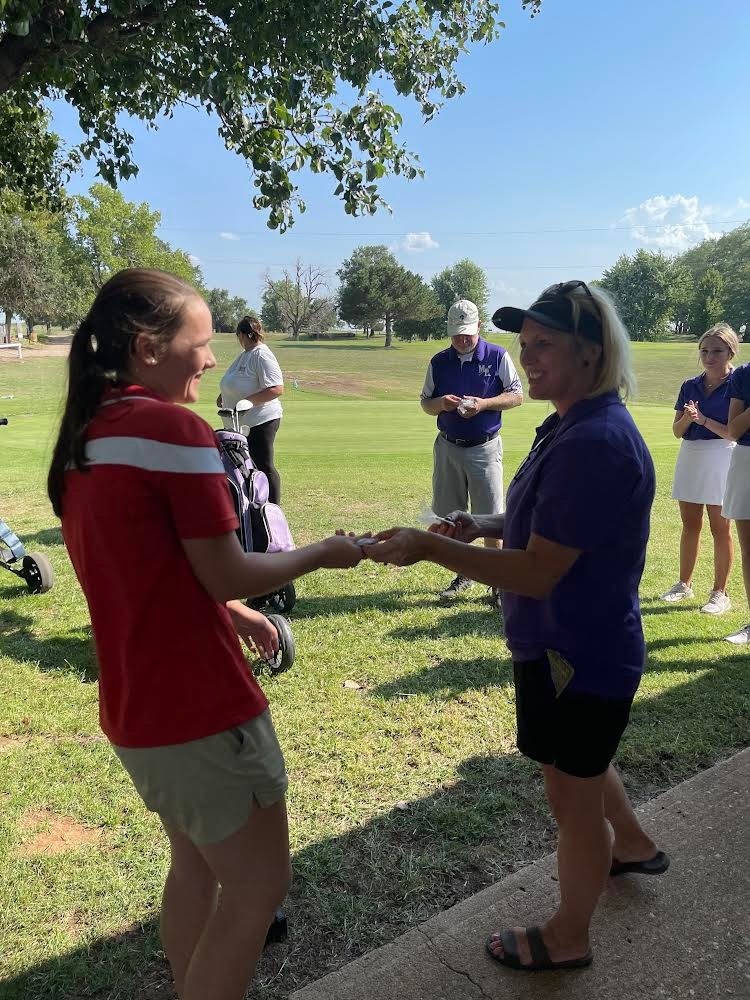 Meet and Greet your upcoming Board of Education Member Candidates!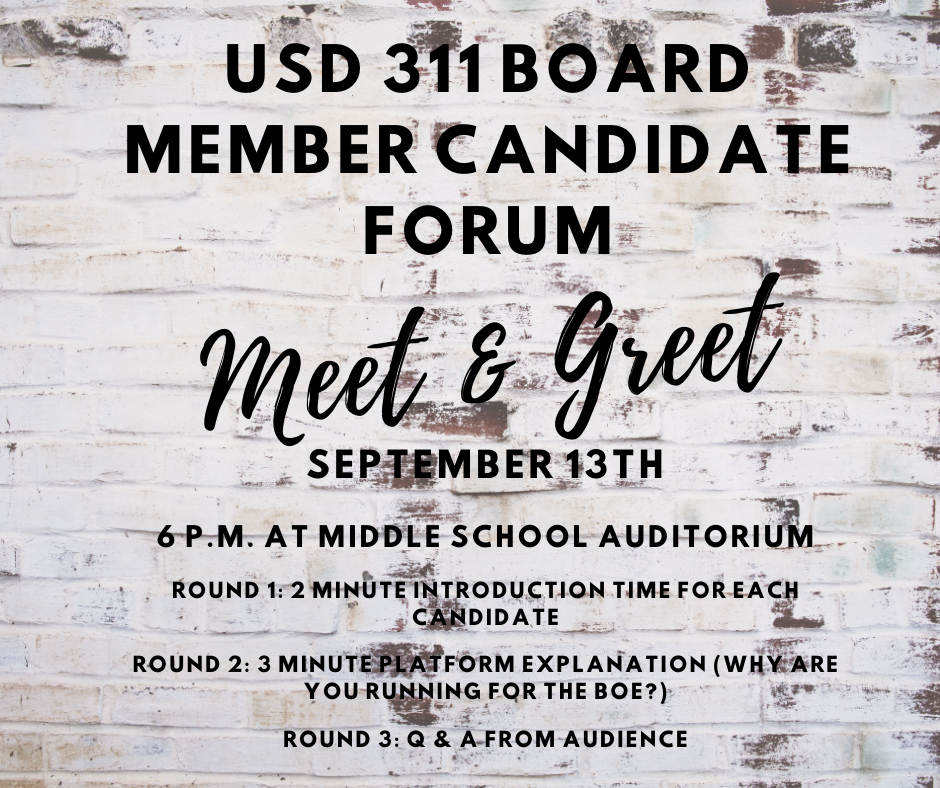 Congratulations to our Lady Bulldogs! Champs of the Skyline Thunderbird Invitational Tournament!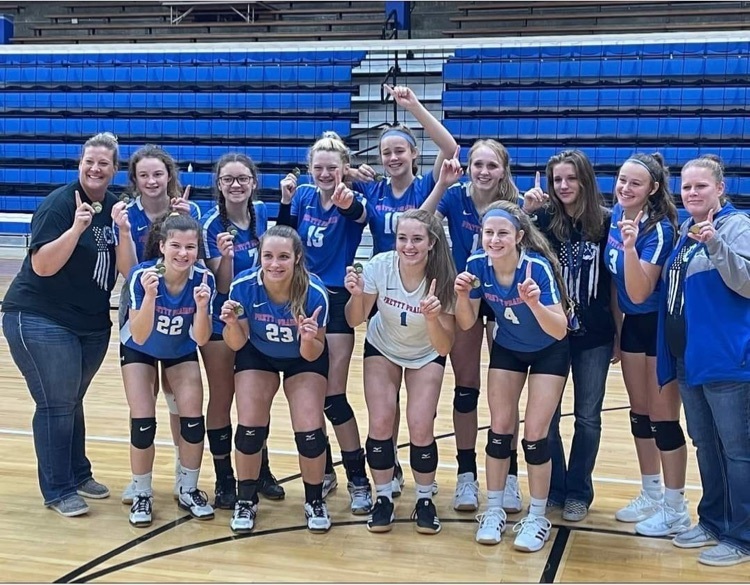 Please remember for those of you attending the tournament at Pratt, there will be a mask mandate in place for all spectators.

HS Football-Pretty Prairie over Central Christian 16-14

Tonight's football game at Central Christian has been moved up to 6 p.m. this evening due to forecasted weather conditions.

Looking for a fun activity this Saturday? Come out and support our HS Volleyball team at the Skyline Tournament at Pratt Community College!! Pool play schedule as follows: 9:00 vs Medicine Lodge, 10:00 vs Bucklin, 11:00 vs Sterling, 12:20 vs Pratt. Top two teams will move on to bracket play at 3:00. Please note that Pratt CC has a mandate requiring masks to be worn by all spectators. Go Lady Bulldogs!!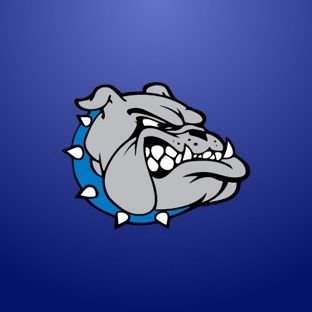 Congratulations to Raegan McLeland for medaling 8th place at Crazy Horse!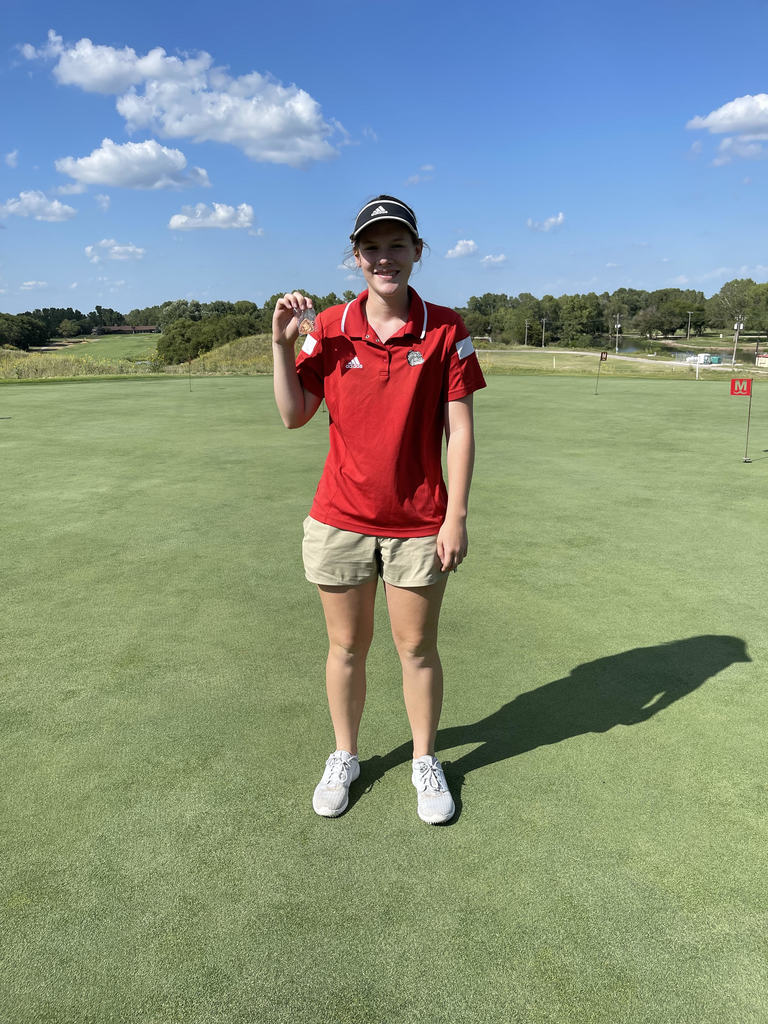 Please join us this Final Friday "Night on the Prairie." PPO will be sponsoring a Street Dance from 8:30 pm-11 pm. Pretty Prairie FFA will be sponsoring a Free Movie at 6:30 pm (concessions will be available for purchase). There will also be a Silent Auction benefiting Pretty Prairie Athletics from 8:30 pm to 11:30 pm.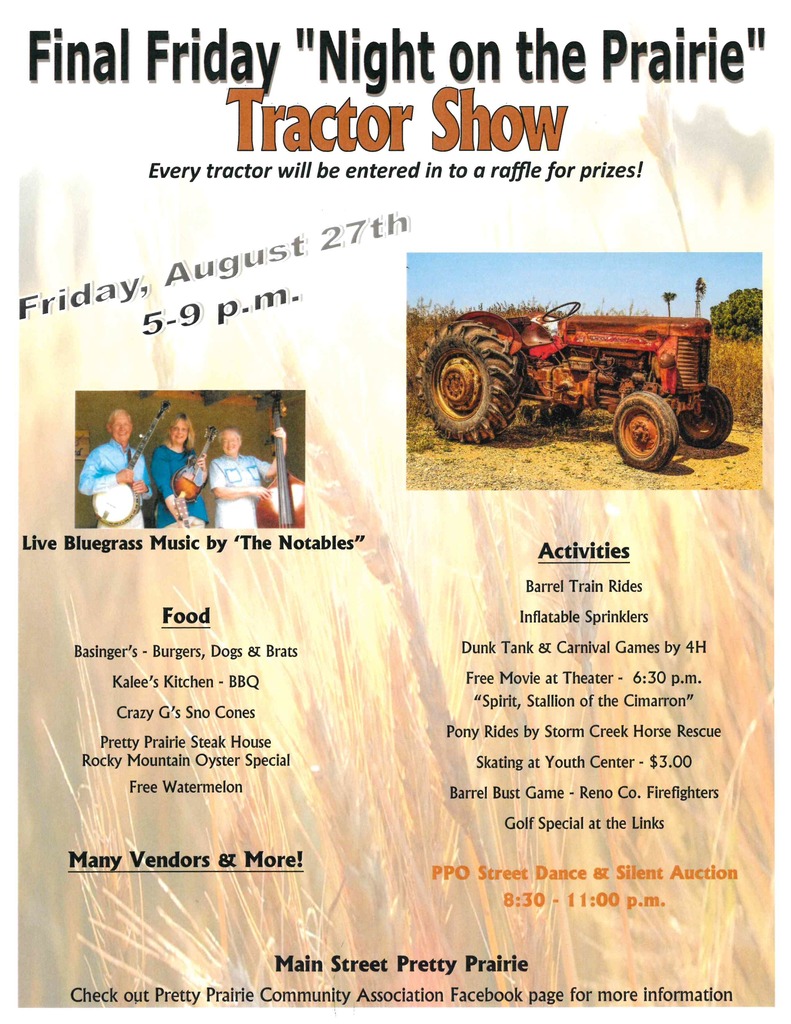 Special Budget Hearing meeting has been moved from August 30th to September 6th at the Middle School Auditorium at 7 pm.

GRADE SCHOOL Please send your child with a refillable water bottle to use at school.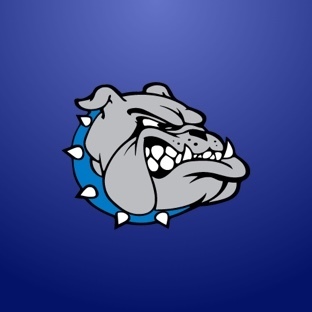 Please join us Tuesday, August 24th, from 5 pm-6:30 pm for Open House at your child(s) respective school. After Open House, we will gather at the football field from 6:45 pm to 8 pm for a BACK TO SCHOOL Ice Cream Social. Hope to see you then!

Parents, Teachers and Community members please join us for an informational meeting about an FFA ALUMNI AND SUPPORTERS CHAPTER. If you are interested in supporting agriculture education and FFA, join us Monday August 23rd at 7pm in the Ag room. Refreshments will be served.

Ideatek will be in District to update our phone/internet systems. Internet will be down from 8:30 to noon.