Congratulations to Raegan McLeland for medaling 8th place at Crazy Horse!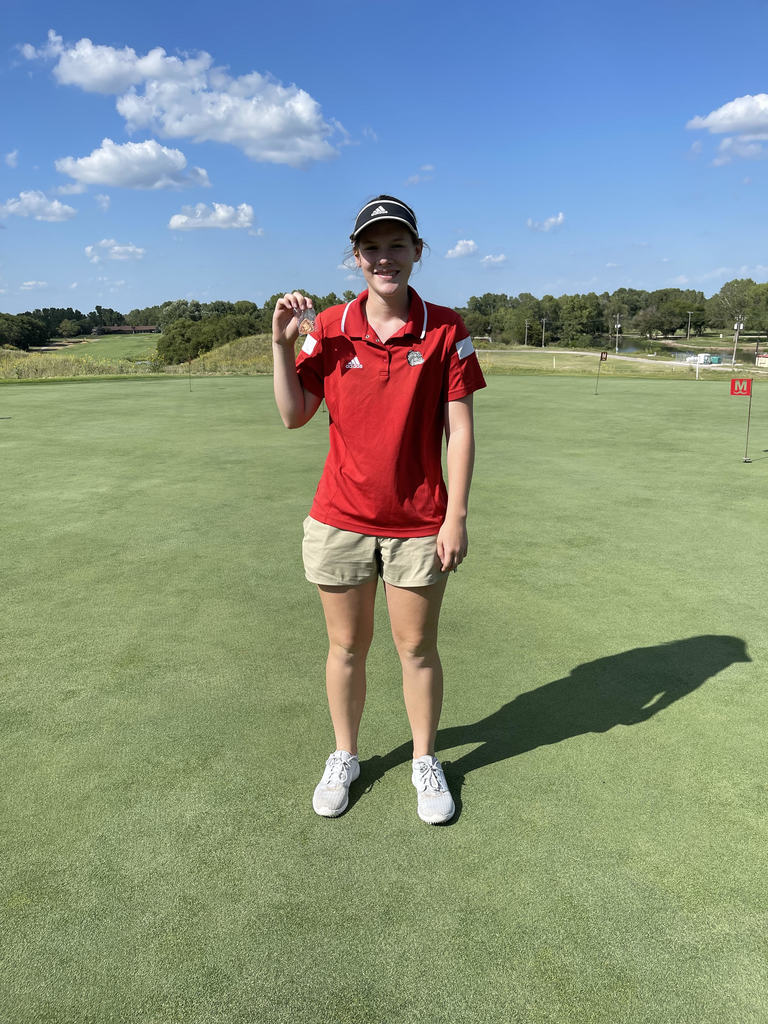 Please join us this Final Friday "Night on the Prairie." PPO will be sponsoring a Street Dance from 8:30 pm-11 pm. Pretty Prairie FFA will be sponsoring a Free Movie at 6:30 pm (concessions will be available for purchase). There will also be a Silent Auction benefiting Pretty Prairie Athletics from 8:30 pm to 11:30 pm.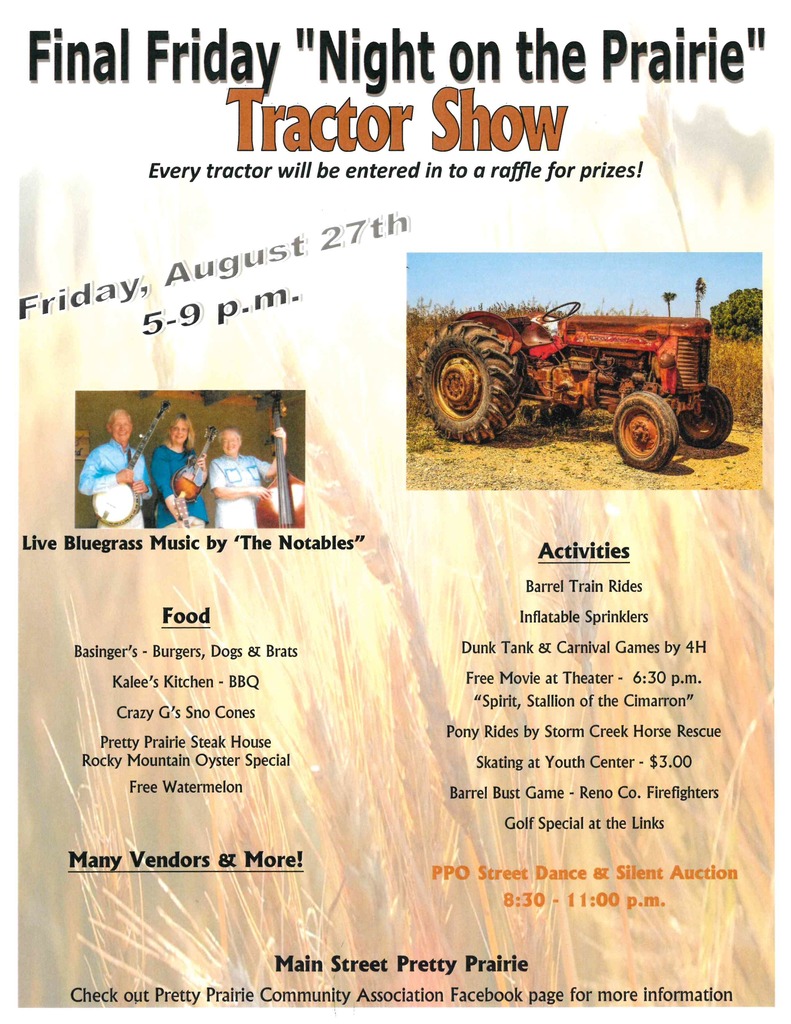 Special Budget Hearing meeting has been moved from August 30th to September 6th at the Middle School Auditorium at 7 pm.

GRADE SCHOOL Please send your child with a refillable water bottle to use at school.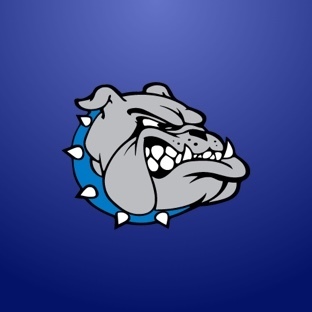 Please join us Tuesday, August 24th, from 5 pm-6:30 pm for Open House at your child(s) respective school. After Open House, we will gather at the football field from 6:45 pm to 8 pm for a BACK TO SCHOOL Ice Cream Social. Hope to see you then!

Parents, Teachers and Community members please join us for an informational meeting about an FFA ALUMNI AND SUPPORTERS CHAPTER. If you are interested in supporting agriculture education and FFA, join us Monday August 23rd at 7pm in the Ag room. Refreshments will be served.

Ideatek will be in District to update our phone/internet systems. Internet will be down from 8:30 to noon.

USD 311 has a new District Newsletter - "Bulldog Bites"!! Use the link below to view. Bulldog Bites has all the back-to-school information you'll need as well as information on upcoming events, new staff and other exciting happenings taking place in our District - don't miss it!
https://www.smore.com/rkfq9

Fall sports begin next week, August 16th! HS volleyball Mom, Tues. 6:30-8:30 am Wed-Fri 6:30-8:30 PM MS Volleyball 3-5 all week HS Football Monday & Tuesday : 7:00am - 9:00am Wednesday, Thursday & Friday : 3:30-5:30 MS football Mon and Tues 8:30-10:00 Wed-Friday 3:30-5:00 Cross Country MS & HS Monday the 16th, 7:00 - 8:30 am. Tue-Fri 4:00 - 5:30 pm



CORRECTION: Enrollment will be held in the Middle School Gym.

Pretty Prairie USD 311 is currently accepting applications for a cook. If you are interested, the deadline for the application is Friday, July 30th.
https://5il.co/ru6s

ALL USD 311 enrollment will be August 5th, from 7am to 1 pm, and 4pm to 7pm, in the Middle School Auditorium. Please enter through the east doors. If you are unable to attend you can contact your respective Building Secretary for a time to enroll. Elementary School-620-459-6621 Middle School-620-459-6911 High School-620-459-6313 Please note all school offices will be closed on August 6th.

Free Sports Physicals: Tuesday August 3: 4-7 pm Wednesday August 4:4-6 pm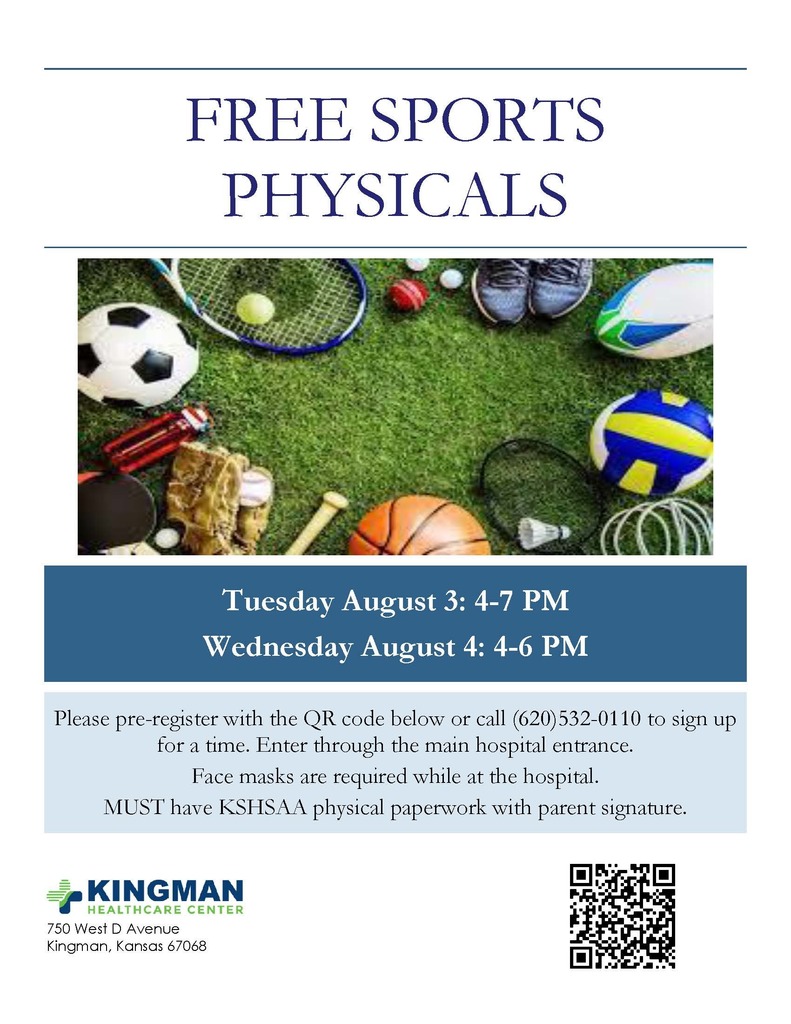 Please fill out this form ONLY IF your family is considering remote learning for the upcoming school year. The form will close at 3 p.m. on July 28th.
https://forms.gle/wUeCcPWWKt8z6W8Q9

USD 311 Summer Meal Notification Please note the following changes to USD 311 Summer Meals: 1.) Pick-up option only, after July 15th deliveries will end. 2.) No RSVP required, just come to the PP High School parking lot on Tuesdays from 3:00pm to 6:00pm in July. 3.) We are ending summer meals at the end of July; no summer meals served in August. Thank you for participating in the Summer Meals and we look forward to serving your students this coming school year! Any questions can be sent to Kristen at
kaufmank@usd311.com
. USD 311 Foodservice Staff

The District Office will be closed Tuesday, July 13th, 2021. We will be open Wednesday and Thursday of this week.

Check out Pretty Prairie USD 311's EMPLOYMENT OPENINGS at USD311.com under General Information/Employment.